Why Relocate to London?
Posted by Jerrard Romanoff in Guides, on February 13, 2015
---
Everybody should live in London at least once in their lifetime. They don't have to live for a long time, a couple of months will suffice to anyone to experience the London way of life. This statement applies certainly to the young people who are still in the hunt for experience and emotions.
Life in London has numerous advantages and perks that very few cities throughout the world can provide to their residents. The city has also a wide number of unique aspects and cultural trait that allow Londoners to grow in experience. In you are currently considering a move to the English capital and you are still not certain whether you should do it, take into consideration to following factors about the city.
London is a city which provides an innumerable amount of professional and personal opportunities to its inhabitants. So regardless whether you want to move to the city to pursue a career or to meet new and interesting people, the English capital will provide them to you. Once you move to London you will quickly realize that it is a city that makes dreams come true, so don't be shy to dream big and to fantasize into becoming the next big movie or music star because who knows it may just happen.
The capital of England is also home to a multitude of fun and pleasant activities which you will be able to benefit from in your free time. It doesn't matter whether you life to hike, run, swim, play football, visit museums, attend to courses, see plays or go to music concerts because the city will provide you all these activities and many more. You can bravely say that London isn't a city in which you can get bored and wonder what to do in your free time.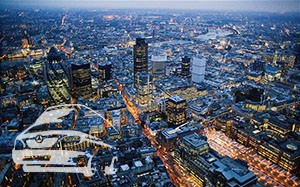 Don't assume wrongly that London provide only daytime activities. The truth is that very few cities in the world can rival London in terms of nightlife. The city is the location of some of England's, Europe's and the world's top nightclubs, public houses and restaurants. So if you are a more nocturnal type of person, have no worries because you will be having plenty of fun during the small hours of the day.
While relocations are stressful and time and energy consuming tasks, they are much simpler when you are moving to London. It is like this because the city is home to numerous man with van companies that provides high quality removal services. The best thing about these companies is that they specialized in both domestic and commercial removals and provide their services at very reasonable prices which won't even put a dent on your savings.
The last perk of living in London is that you will have an easy access to a myriad of world famous museums, art galleries and theatres. After all it is not a coincidence that London is considered to be one of the world's cultural and historical centres.
As you can see living for a while in London is well worth it and who knows you may even enjoy so much that you decide to become a permanent Londoner.