Places to see in Hammersmith and Fulham
Posted by Jerrard Romanoff in Guides, on April 18, 2017
---
It is quite obvious why the Borough of Hammersmith and Fulham has basically two names. When the borough was formed in 1965 it merged together the two boroughs with the names mentioned above. Another thing which is obvious is the fact that this area started its development rather quickly thanks to its location. It is situated very near The City of London and nowadays it is a very expensive place to live in. This, however, doesn't mean that removal companies will charge you a lot for a relocation. But if you are able to move in to the Borough of Hammersmith and Fulham then you perhaps do not care a lot about the price of anything. Another interesting trait of the borough is that it is the only borough which has three professional football clubs – Fulham, Chelsea, Queens Park Rangers. One of the buildings worth seeing is the Hammersmith Library which was renovated in 2013. Here are is a quick overview of some of the more known areas of the London Borough of Hammersmith and Fulham.
The two main districts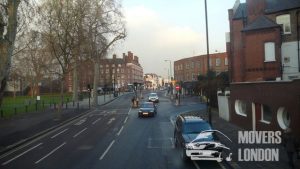 It is only normal that we start with Fulham. When the Industrial Revolution began Fulham was known for accommodating a number of various factories and not only ones which are part of the heavy industry. For instance it had tapestry and pottery enterprises all the way back in the 15th century. Now we should move on to talking about the local pubs. Lillie Langtry is such a place which went through several name changes during the years. As far as breweries go, Swan Brewery comes to mind. Among the parks of Fulham we should talk about Bishop's Park, South Park and Eel Brook Common. The Fulham Pottery was founded in 1672. All in all it is clear that if Fulham has various venues and experienced Fulham moving companies need to be really good as they have to handle specialised or artsy items all the time.
We move on to Hammersmith, W6. This is a very interesting town with plenty of impressive architecture. Such an example is the Hammersmith Bridge. Another great building is "The Ark" office building which was erected in 1992. Its name is not random as it is built to resemble a sailing ship. The Salutation Inn is not simply and ale house but it is also a Grade II listed building. It is about a century old. If you are looking to visit a typical local public house then The Dove is for you. Its entrance is somewhat hidden in a little back street, however.
Apart from the two main towns there are other nice ones to see as well
Shepherd's Bush, W12 is among the most desired places to live in the London Borough of Hammersmith and Fulham. There are a lot of domestic removals happening at any one time and the competition among companies offering reliable relocation help in Shepherd's Bush is immense. For instance a popular place is Shepherd's Bush Green. This park has a triangular shape and it attracts a number of families daily. If you are looking to see a newly written play then you should visit Bush Theatre which has a reputation of showing mainly fresh material.
If you happen to pass by West Kensington then you should definitely see 2 places – Olympia Exhibition Centre and the Queen's Club. The former is a gallery and a train station as well. It hosts many fairs throughout the year and is definitely worth visiting. It was opened in 1886 and was known as the National Agricultural Hall. Queen's Club is of course known for hosting one of the more prestigious grass tennis tournaments in the world. The club was founded also in 1886.
The area of White City marked the start of its urban development after hosting the Summer Olympics in 1908. We have gotten to a point now when during the new century a brand new shopping centre was built. It is called Westfield London. Additionally two more London Underground stations were constructed to better serve the ever growing population of White City. If you want to move in to the area you might have a tough time getting the best White City removal companies as they are constantly busy with a packed schedule.