How Much an Office Removal is Worth?
Posted by Jerrard Romanoff in Guides, on January 7, 2015
---
An office relocation is a very serious matter. It can bring much good to your company, but unfortunately if not handled properly, it may have quite the opposite effect. So do not hesitate to think the whole endeavor of your office relocation through and weigh the pros and cons of every strategy that you consider employing in order to complete the task.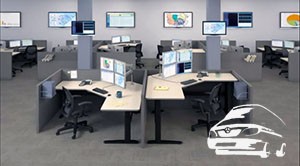 The most important thing to look out for is making sure that your company is not going to lose money due to the relocation. This should definitely be your main focus and concern throughout the planning stage of the project. Those losses may come from various place – damage to the equipment you work with, overcharging by the moving contractor, disputes between members of your staff, or disruption in the business process for longer periods of time, because the project is not completed on time.
Having that in mind, one thing should be made very clear – an office removal is a responsible and important thing for your business. It should be done in the most proper way possible. Saving money from it should not come at the expense of the quality of the job done. The most adequate way to tackle the problem is find a removal company that combines efficiency with competitive prices in their services. A man and van contractor with a proven track record of successfully completed office removals would be perfect for your needs. Most man and van companies today operate in the same manner as the really large commercial removalists, with the difference that they provide much more competitive pricing systems and discounts.
Be careful when choosing the contractor you are going to hire though. It is one thing to be offered the lowest price, but it is not worth it if the job is not going to be done the way it is supposed to be. Read online reviews for the company you are considering, and if they are predominantly bad, just go for the one with more positive client feedback, even if the quote you are offered by them is a bit higher. It cannot be stressed enough – quality is your major concern, because when it is present you will be spared from much larger expenses afterwards – for damaged equipment, documents lost or disturbances in the business process of your firm due to the office removal.
A good way to save on the office relocation while still not making compromises with the proper completion of the job is to get your staff help with at least a part of it. They might be responsible for packing and moving their personal belongings, or help you with securing some of the sensitive equipment. Thus the quote for packing will dramatically drop, but you will still be able to enjoy a thoroughly hassle-free office relocation. The whole thing might very well turn out to be a bonding team building experience, much better – and more fun for everyone – than the last event that you have organized.