DIY move vs. hiring a contractor
Posted by Jerrard Romanoff in Guides, on March 13, 2015
---
More and more people choose to carry out their household relocations on their own instead of hiring professional movers for the job. The reasons this option has become so popular are many. One of the main reasons is that DYI moving is considered to be much cheaper than going for a contractor. But is that the case? And is it actually worth it to save money exactly on professional movers?
Weighing the pros and cons of both options is a tiresome and pretty problematic, because for both sides there would be a sufficient amount of both positive and negative things to say.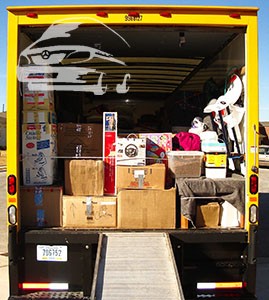 When one turns to people with experience in the field of moving on both sides of the fence – meaning, to both professional movers and simply such individuals who have moved homes enough to know how the process works, turns out DIY removals are suitable for some occasions, while others call for specialists' assistance. This sounds logical enough, but as you may very well know every theory is useless unless it has shown some practical results.
So, what types of removals call for special skills and equipment and which are better to be tackled by the person actually conducting the removal?
Moves of a smaller scale are usually best tackled without the help of professional movers. After all, if you are moving only yourself from one bedroom apartment to another of the same dimensions, chances are that you have few pieces of furniture and you can handle the job on your own.
The same goes for students removals, especially if we are talking about moving into a dorm. Dormitories are traditionally small, cramped spaces with little room, so fitting items that cannot be moved with a car in there would be a challenge you will have no use in pursuing. So, the DIY option would be perfectly satisfactory for you here too.
It all changes when you are conducting an

international removal

. The help of a skillful contractor specializing in the field is of utmost importance for you here, because the problems that might arise and the things that you do not know about international moves could be overwhelming simply in terms of number. If you go for professional help however, you can count on comprehensive help with everything – from packing to assembling all the necessary documentation and permits.
Moving experts would definitely help you with your family move more than you might expect. Chances are that you might be able to handle the job on your own, but why risk it? There would be a lot of furniture and personal items to be moved, and if you want it to happen at once, you'd better give your local man and van company a call.
Long distance relocations also call to professional touch. If you are moving across the street, you can go back and forth to your old place and collect items on your own. You cannot do that if you are moving to another city, so obviously you need movers with a van or a truck to do the job in one take.