Moving Companies & Moving Industry – Some Specifics from Around the World
Posted by Jerrard Romanoff in Guides, on February 15, 2015
---
Although in its core, the professional moving industry has remained the same in purpose throughout the world, in time it has also developed certain specific differences and unique national or continental characteristics which set it apart from everything else.
For instance, the removal service provider is referred to differently in different parts of the world. In the UK these businesses are commonly known as moving companies, movers, man and van people etc. In Australia and New Zealand, the movers are known as removalists or removal people. In the US the movers are usually called removal companies, house removal people etc.
The purpose and layout and contents of the removal services itself (its format) also depends on national and geographical specifics and requirements. For example, in the US over forty million Americans have moved houses in the last decade. Eighty five percent of that forty million people have moved only state-wide. Twelve percent of the same forty million people have moved interstate, and only two and a half percent of all people have moved internationally. In the UK, house moves are different and so are the figures – one London based removal company has prepared a quick survey showing that the average Londoner would move twice a year and in result moving companies clock an excess of hundred and twenty thousand kilometres a year. These figures and stats go to show that professional removal services should be custom tailored and formatted in such way as to meet specific customer requirements which vary from country to country, and from city to city.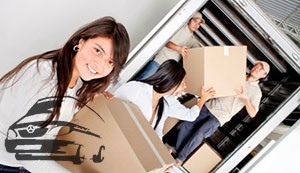 Throughout North America (US & Canada) the cost of professional moving services is formed by a number of factors. These are typically weight of items, the distance over which items have to be transported, the timeframe / duration of the removal service also the time of year (season) during which the relocation will take place.
In the UK and Australia, removal service prices are formed in a slightly different way. In these countries it is generally the volume of items due to be moved that forms the service price, not their weight. Many companies in these countries also offer flat rate removals.
Moving companies around the world also give customers the option to conduct the relocation themselves after renting a vehicle from the service provider in question. In the UK, Australia and New Zealand this service is commonly known as DIY moving. Self-moving also requires customers to obtain (purchase or hire) all the additional equipment and materials needed for the job. This is usually done through the moving company renting out the vehicles, or it could be a totally separate service provider.
In cases where self-moving is not the most suitable option from economic or safety point of view (long distances, bad weather, large volumes of items etc.) relocation companies can offer customers to buy cargo space in large shipping containers or similar freight containers which are then driven to the intended destination by professional, qualified removal drivers. Sometimes for more cost efficiency, container space could be sold and shared by a number of customers, though the removals would have to be at least in the same geographic region for this option to make (economic and business) sense.